Four Questions on Farsickness is an interview series with creative writers for whom place is essential to their work. Each writer answers the same four questions—and featured this week is award-winning novelist and translator Carolina De Robertis.
1. Share a little about where you're from. When you were growing up, what place—real or imagined—most fascinated you, and why?
I am ríoplatense—an untranslatable word that means "of the Río de la Plata region," i.e., from Uruguay and Argentina. I have roots in both countries, and yet I never lived in either one as a child. I was an immigrant kid, first in Europe and then in the U.S., and this gave me a constant pervasive sense of there being an "elsewhere," another place to which I also belonged despite the fact that it rippled with mystery and distance. You might say that I've been "farsick" all my life, and that, in my world, farsickness and homesickness blur and overlap, because the faraway place is also, strangely, home.
2. What travel has been a particular inspiration to your work?
The trips I've taken to Uruguay and Argentina have not just been valuable to my writing; they have been the fundamental source-place of my novels. Every time I've gone, I've come home full of stories, impressions, voices, scents, memories, emotion, that I find I can only fully process by writing fiction. All three of my novels so far—The Invisible Mountain, Perla, and The Gods of Tango—are set in Uruguay and Argentina, and plumb their history and culture.
For my most recent book, The Gods of Tango, which follows a young Italian immigrant as she breaks into the tango underworld of 1910s Buenos Aires, I also drew on research from two trips to Italy in 2010, during which I rediscovered my ancestral village, Prepezzano, and connected with my relatives there. Although it's a different part of the world, it's part of a similar pattern: I travel to these places that are deeply part of me, and yet also hold a fascination born of distance; I hunger for these places, listen to them, submerge in them, and then attempt to honor their stories in my work.
3. Where do you "escape to" to recharge creativity?
In addition to being ríoplatense, I'm a California girl. I've made my home in Oakland, California, and, on a local level, I love to go camping in the California redwoods, particularly among the majestic old growth trees that truly put everything in perspective. I also treasure being near lakes, mountains, or hot springs. And, in a perfect world, I'd love to return to Uruguay once or even twice a year; I recently spent a year and a half living there with my wife and two children, and it only deepened my dizzying sense of having two homes, and, therefore, always pining to return. Immigrants have enormous hearts; our love vaults across continents.
4. Where would you most like to travel to next?
I am, of course, already scheming my next trip to Uruguay and Argentina, as well as dreaming of a future return to Italy.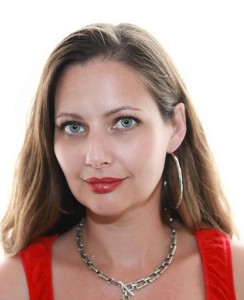 Carolina De Robertis, a writer of Uruguayan origins, is the internationally bestselling author of The Gods of Tango, Perla, and The Invisible Mountain, which was a Best Book of 2009 according to the San Francisco Chronicle, O, The Oprah Magazine, and BookList. She is the recipient of Italy's Rhegium Julii Prize and a 2012 fellowship from the National Endowment for the Arts. Her work has been translated into sixteen languages. Her writings and literary translations have appeared in Zoetrope: Allstory, Granta, The Virginia Quarterly Review, the anthology Immigrant Voices: 21st Century Stories and elsewhere. She is also the translator of the novels Bonsai, by Alejandro Zambra, and The Neruda Case, by Roberto Ampuero. She is currently working on her fourth novel. Find her online at carolinaderobertis.com; on Facebook at facebook.com/carolinaderobertis; and on Twitter, @caroderobertis.