I rarely write anything except journal entries on a trip, since an essential thrill of travel is to get away from the pen, the page, the screen and out into that unmediated place called the world. I can swim and float in it, be wholly absorbed by it, instead of — as it often feels like in daily life — just keeping the boat moving through it as best I can. While I'm all for resisting familiarity through mindfulness, appreciating the small things, and oh-so-naughtily staying up until 1 a.m. on "date night," I also believe in real, testing changes-of-scene to re-see the world. Earlier this month, my destination was new to me, one which so many travel-loving friends have raved about: Oaxaca de Juárez. It's also a place where I wrote like I couldn't stop.
The flood of writing began almost immediately, and I don't know if I'll ever understand why. Was it the quality of the light that makes Oaxaca famous as the arts capital of Mexico, pulling artists from across the Americas to call it home? Here's how the pedestrian-only, cobblestone street, Andador de Macedonio Alcalá, looked on my first morning:
The city sits at about 5,500 feet and has the sort of glistening, temperate climate that can make you start uncontrollably sighing with relief. "Ahhh," you might hear yourself say, before you begin babbling about the magic of mountain towns, low-slung Spanish colonial architecture, a many millennia-old culinary tradition like no other, the wit and jewel-tones of contemporary Zapotecan and Mixtec artistry, and the perfect latte, to be had here:
Every morning, I sat with my family at a tree table at Cafe Brújula and marveled at the simple, civilized beauty of an interior courtyard. I've been fascinated by them since growing up in the Middle East, followed by travels in North Africa and Spain — all places that specialize in the potted garden-in-the-middle-of-the-house, flooded with natural light. Though as Maria Crespo, the owner of El Diablo y la Sandia, the cool and lovely colonial-vintage bed-and-breakfast where we stayed for a week, put it, "The rain pours right into my dining room":
The Moorish-influenced Spanish colonists brought their courtyard aesthetic to Mexico, and Oaxaca de Juárez — settled by the Spanish almost five hundred years ago — is packed with them. The most spectacular courtyard is in what is, quite simply, the most spectacular building I have seen in the Americas, the Templo y Ex Convento de Santo Domingo de Guzmán. Linked, monumental cloisters, courtyards, chapels, and vaulted chambers span for acres:
This luscious courtyard is in the Quinta Real Oaxaca, a luxury hotel in a converted 16th century convent, where we enjoyed many drinks: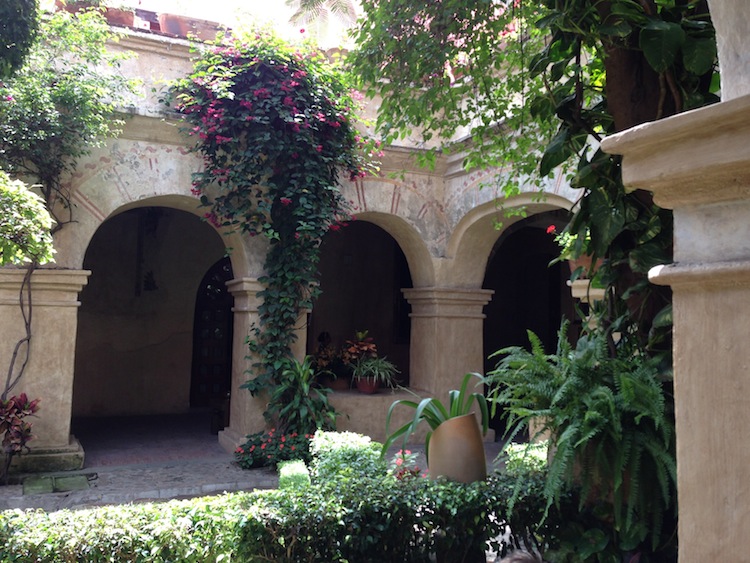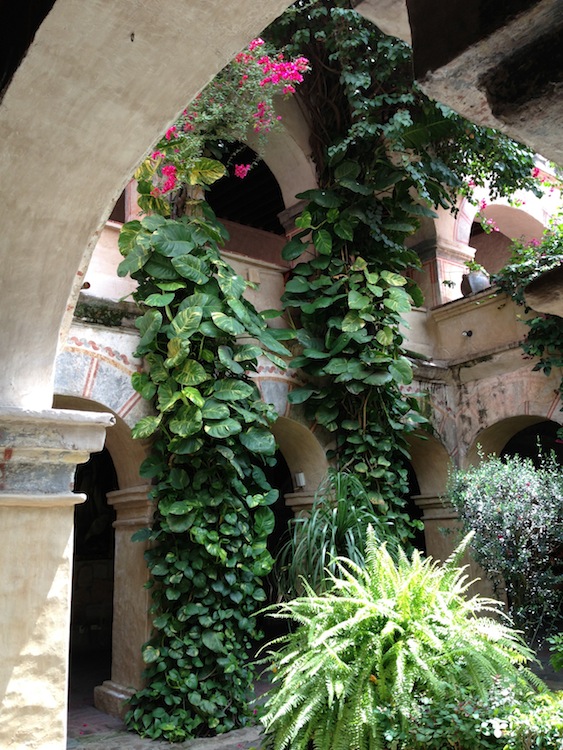 Here I am exploring the five hundred-year-old courtyards of Exconvento de San Pablo, which houses the Centro Cultural San Pablo — a collection of art galleries, concert space, and historical exhibitions:
Houses with interior courtyards were indigenous to the architecture of the area's Zapotecan and Mixtec cultures, which I learned after taking the 20 minute ride up a bright green mountain to the oldest city in the Americas, built around 500 B.C.E. and overlooking the entire Valley of Oaxaca. Monte Albán was one of Mesomerica's urban capitals for 1,300 years. Dozens of pyramids in the core of the city's 2.5 square mile site have been excavated, and were sparsely visited the day we went, except for the ornate yellow and red beetles and leaf-cutter ants that absorbed the attention of my son. Our site guide, Clemente, pointed out the hieroglyphs on the buildings' walls that indicate a culture where women and men shared top political and religious power.
The Muse seemed to like this. (Why wouldn't she?) Back in our room, I wrote for hours, while my husband and son dozed in the hammock and played card games on the roof-top terrace.
At night, we ate every color of mole (favorites being amarillo and coloradito, a fiery red), tried the fried grasshoppers (chewy), and grew smitten with stone soup at Casa Oaxaca's extraordinary restaurant. Fresh seafood is cooked at the table using six scalding stones placed one-by-one into the spicy broth:
We stayed out late, and my son decided he liked Oaxaca even better at night than during the day:
Oaxaca possesses a rare combination of vibrancy, vitality, and peacefulness that could inspire anyone. What might have spoken to me, too, was the metaphor of all those courtyards — the open garden in the middle of the house, intimate and full of life — that helped reshape my creativity for many bright days.