Four Questions on Farsickness is an interview series with creative writers for whom place is essential to their work. Each writer answers the same four questions—and featured this week is award-winning novelist, poet, and essayist Elizabeth Rosner.
1. Share a little about where you're from. When you were growing up, what place—real or imagined—most fascinated you, and why?       
I grew up in Schenectady, New York as the daughter of two Holocaust survivors. Although most of my writing (fiction, poetry and essays) has tended to draw on the emotional landscape of my upbringing, it was while writing my third novel, Electric City, that I discovered a belated fascination with my hometown. In all honesty, I'd considered it a place I was more than happy to get far away from.
My perspective had been limited to what I'd experienced during only the first 16 years of my life; I was in such a hurry to leave that I graduated a year early from high school. It took more than 35 years of living in California before it finally occurred to me that perhaps I'd been avoiding some fundamental curiosity about where I came from. With the detachment of geographical distance as well as a genuine interest in looking beyond my personal story, I found the layered history of Schenectady revealing itself as vivid and inspiring.
I was the daughter of a German man and Polish woman who had met and fallen in love in Sweden, so that place of refuge held a strong allure for my imagination; I visited the country five different times. All of that European travel became part of my first two novels. As for this latest one, my American novel, the story goes like this: throughout my childhood, Native American names had appeared everywhere, but I didn't know a single person with that heritage. Furthermore, though I'd known that General Electric employed nearly everybody's father (like mine), I don't remember wondering why the company headquarters had been located downtown, and why we had once been called "The City That Lights the World." My father suggested I consider writing about Charles P. Steinmetz, aka "The Wizard of Schenectady." As soon as I started researching him, and then grabbing the title, Electric City, I felt literally jolted awake, newly energized about exploring the power of place.
2. What travel has been a particular inspiration to your work?
I've been a long-distance traveler all of my life; maybe it's encoded in my DNA. I spent a year in the Philippines as an exchange student when I was only 16 (just after high school graduation). In that place—as far from home as I could get without leaving the planet—I began to envision myself as a writer. I filled notebooks with every sensory and interpersonal detail I could grasp, wanting to record and memorize everything. A few years later, during my first solo trip to Europe at age 21, I began writing stories of the places where my parents had come from, as well as the secrets and silences inside those stories. Years passed before I completed my first novel, The Speed of Light, during a sabbatical I took on the island of Crete (though the book has nothing to do with Greece). I wrote a good deal of Blue Nude, my second novel, while living in San Miguel de Allende, Mexico, surrounded by artists. Most recently, I've become intrigued by a little-known piece of Holocaust history involving the Dominican Republic. I took a short trip there in May, and hope to return to the island again soon for more extensive research.
3. Where do you "escape to" to recharge creativity?
I'm happiest and most "open to the muse" when I'm near water, especially if I can swim in it. That includes oceans, lakes, rivers, ponds and aquamarine pools. Many of my significant creative "breakthroughs" have happened while I was immersed. Images, scenes, characters, dialogue—these elements often rise toward consciousness when I'm floating. I also take a lot of long walks with my dog.
4. Where would you most like to travel to next?
I've got an impossibly long list of places I want to go, because I'm always torn between discovering something new and re-visiting favorites. Do I really have to choose just one? How about BarcelonaLisbonVienna? And a few more Caribbean islands while I'm at it, all for research purposes, of course.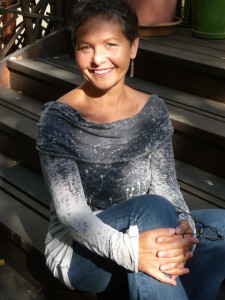 Elizabeth Rosner is a bestselling novelist, poet, and essayist living in Berkeley, California. Her third novel, Electric City, was named among the best books of 2014 by National Public Radio; this fall 2015, it's newly published in paperback. Her first novel, The Speed of Light, was translated into nine languages. Short-listed for the Prix Femina, the book won several literary prizes in both the US and Europe, including the Prix France Bleu Gironde; the Great Lakes Colleges Award for New Fiction; and Hadassah Magazine's Ribalow Prize, judged by Elie Wiesel. Blue Nude, her second novel, was selected as one of the best books of the year by the San Francisco Chronicle. Rosner's essays have appeared in the New York Times Magazine, Elle, the Forward, Hadassah Magazine, and several anthologies. Her poems have been published by Poetry Magazine, Catamaran, Poetry East, Southern Poetry Review, and many other journals; a full-length poetry collection, Gravity, was published in 2014. Ms. Rosner travels widely to lead intensive writing workshops, to lecture on contemporary literature, and to visit with book groups. Her book reviews appear frequently in the San Francisco Chronicle. Find her online on her website, www.elizabethrosner.com; on her Facebook Page, www.facebook.com/elizabethrosnerbooks; and on Twitter: www.twitter.com/elizabethrosner.